Feathercraft Big Kahuna Folding Kayak 2009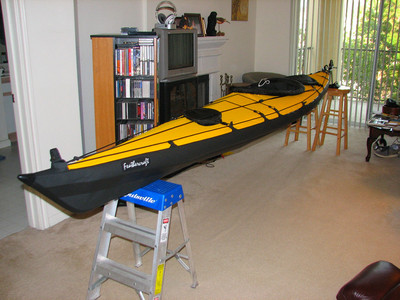 Yellow and black, with rudder and skeg, front small and large rear hatches, 230cm four-piece narrow paddle, 40 liter dry bag, 5 liter dry bag, cockpit cover and sea sock. With backpack. All supplied documentation and unused repair kits.
In near new condition, very very minor scuffing on bow double keel. Everything else pristine. There are NO leaks, not even small ones.
Purchased in 2009, first used in 2010. This kayak was used six times, Matagorda Bay Arrowhead Lake, twice at Lake Tahoe (where the scuff happened), Columbia River and the San Juan Islands. Washed every every use, lubricated and stored in bedroom closet.
I LOVED this kayak but I moved to Hawaii where outriggers are a better fit. The kayak is on the mainland however, packed and ready to ship via FedEx (62lbs).
Before I packed it up, I took 110 photographs of it in all facets of construction, inside and out, in different light conditions, to support any inquiries. I will be happy to supply further pics on request.
This kayak and accessories cost $4000 new, cost even more now thanks to the exchange rate.
BUY IT NOW AND SHIPPING IS FREE.
Get yourself in the water for the summer season!
Kayak is currently located in N. Carolina.